Project
Art On the Underground: Rhea Storr
Team
HATO
Year
June 2022
About
Art on the Underground comissioned HATO to create artwork for 24 boards at Heathrow Airport, Escalators at Bethnal Green and Notting Hill, and the mezzanine platform at Stratford station featuring visual artist Rhea Storr's work. The project, entitled 'Uncommon Oberservations: The Ground That Moves Us' features a series of large-scale captioned photographs created using an outdated military surveillance photographic film called Aerochrome.
Response
Art Direction and design for one of Art on the Underground's biggest projects to date. Focused on highlighting the film element to Rhea's work with additions of film strip and colour burned edges for escalator transitions. A purposefully pixelated wall at Stratford links back to the notion of surveillance as CCTV. Caption text is irregular and slightly disintergrated to reference the film.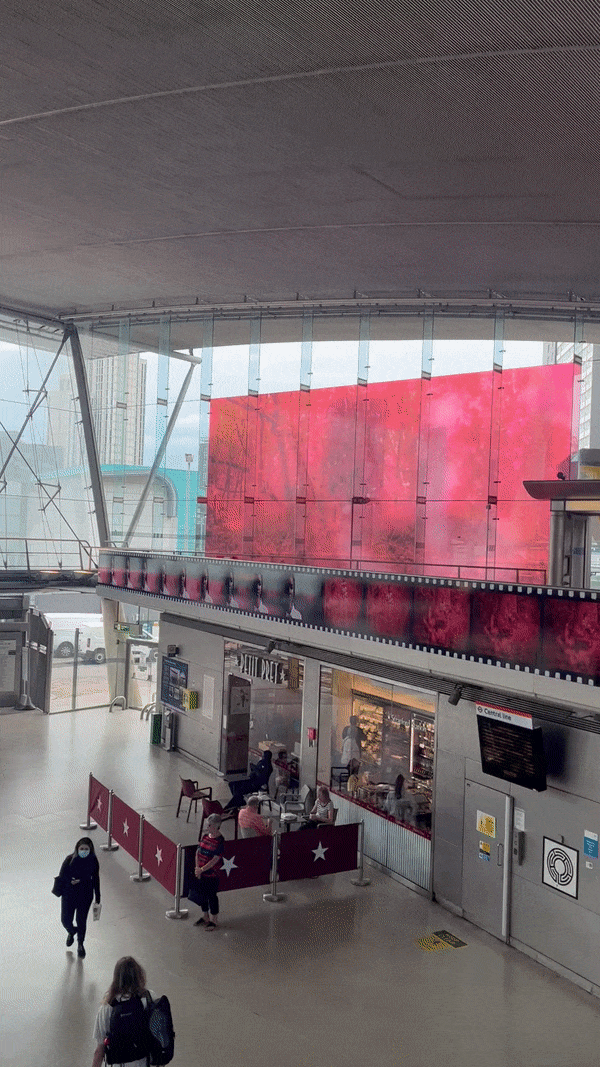 ---
Project
Titanosaur
Team
HATO
Illustration; Maria Midttun
Year
March 2022
About
Titanosaur is one of the largest upcoming exhibitions at London's Natural History Museum. Showcasing the to-scale skeleton cast of the biggest known creature to have ever lived on Earth. HATO were tasked to create the visuals for the exhibition.

Response
To target the main audience of children, the direction is focused on a distinctly 2D approach, referencing child-friendly design icons such as Enzo Mari and Bruno Munari. A serif font was chosen to reference traditional storybooks. To be rolled out by NHM's internal team on billboards, merch and animated film. Launching 2023.